Regular price
Sale price
$39.95 USD
Unit price
per
Sale
Sold out
Details

Ultra-soft minky polyester
Tattoo artist designed tattoos
Quality certification
View full details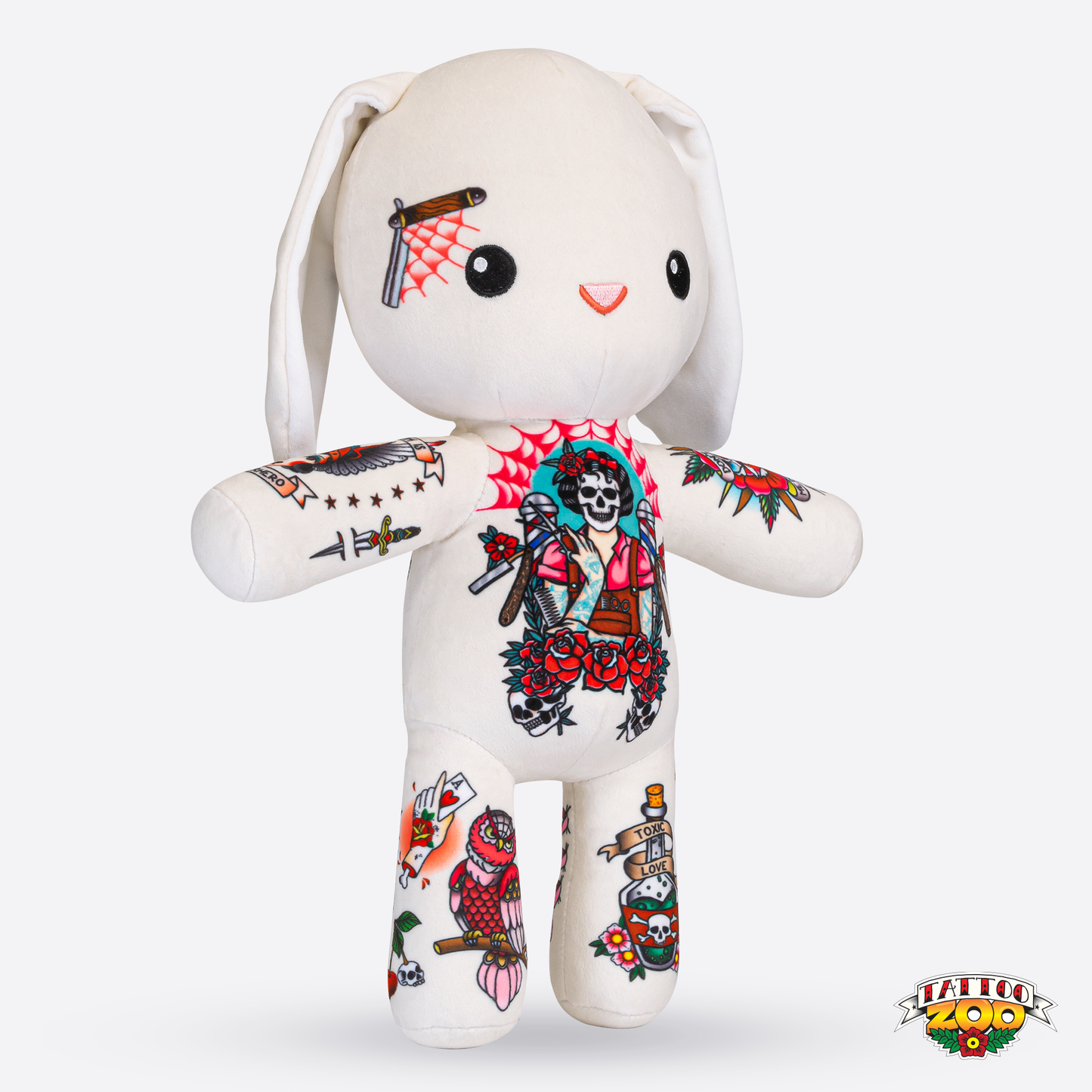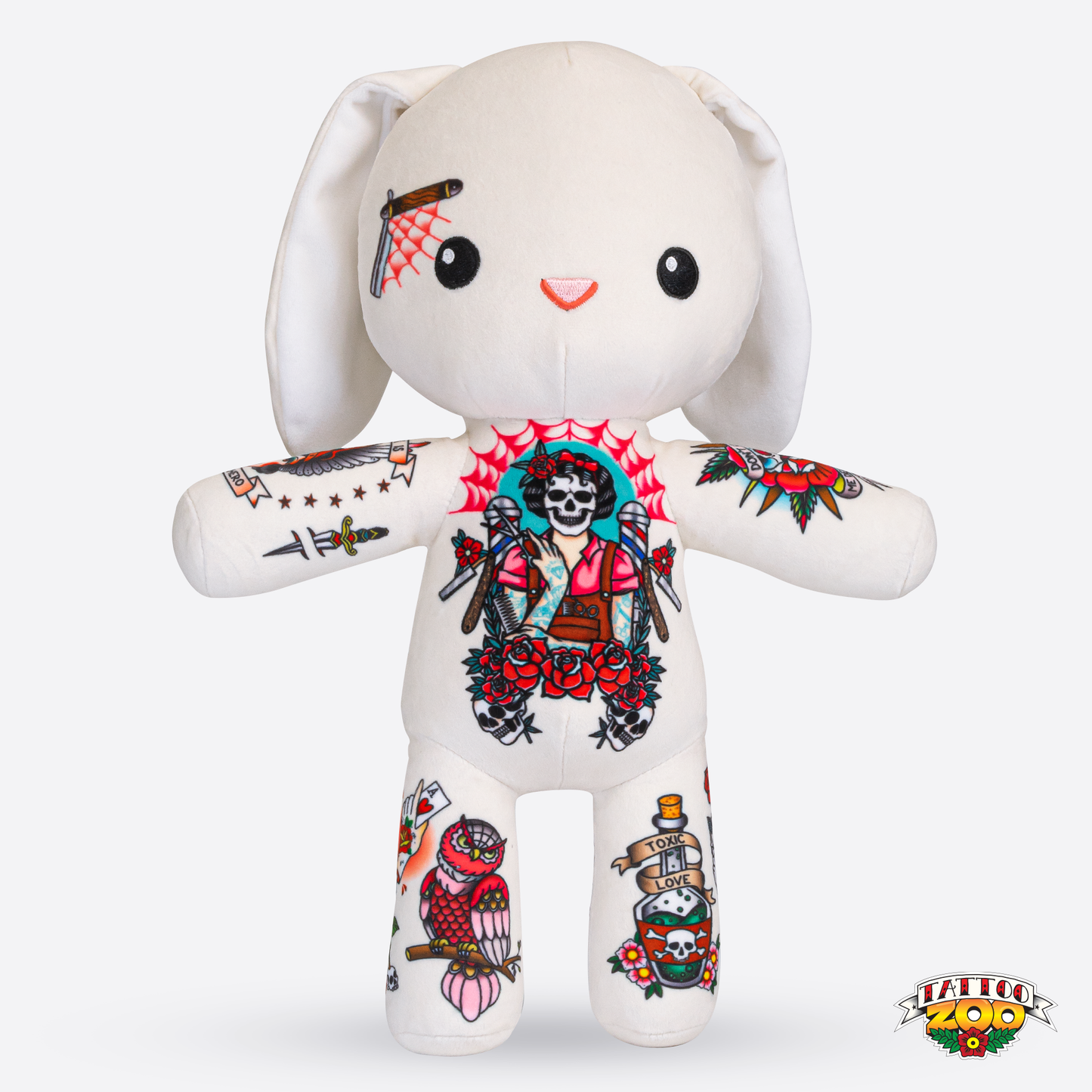 ALL ABOUT Barbara the Hairstylist Bunny
Ever since she was a child Barbara wanted to either be a glam metal rocker or one of their barbers. She's come pretty close as the owner of a salon specializing in hair styles reminiscent of the 80's Sunset Strip scene. With the amount of hairspray in that place you better not light a match within 1,000 yards.
There's plenty of head banging music playing in her salon, which is decked out in concert posters and ticket stubs from her favorite bands like Twister Scissor and Motley Crew Cut. If you can hear her over the music you'll learn she's quite the conversationalist who knows a little bit about everything. You can ask her about ancient Roman history or her thoughts on raising the federal interest rate. Just don't ask her to turn the music down.
In her free time you can find her working on her collection of hot rods, whose engines are somehow even louder than their speaker systems. They're fast, powerful, and sure to leave any tortoise in the dust for good. And yes, her pile of unpaid tickets is proof she's been known to drive more than a hare over the speed limit.
A Taurus, Barbara's quick with a joke, and you can often find her at open mic nights. If you're a customer you'll probably recognize yourself in one of her bits--try not to take it personally.
Liquid error (sections/pf-beb10908 line 5): Could not find asset snippets/pagefly-settings.liquid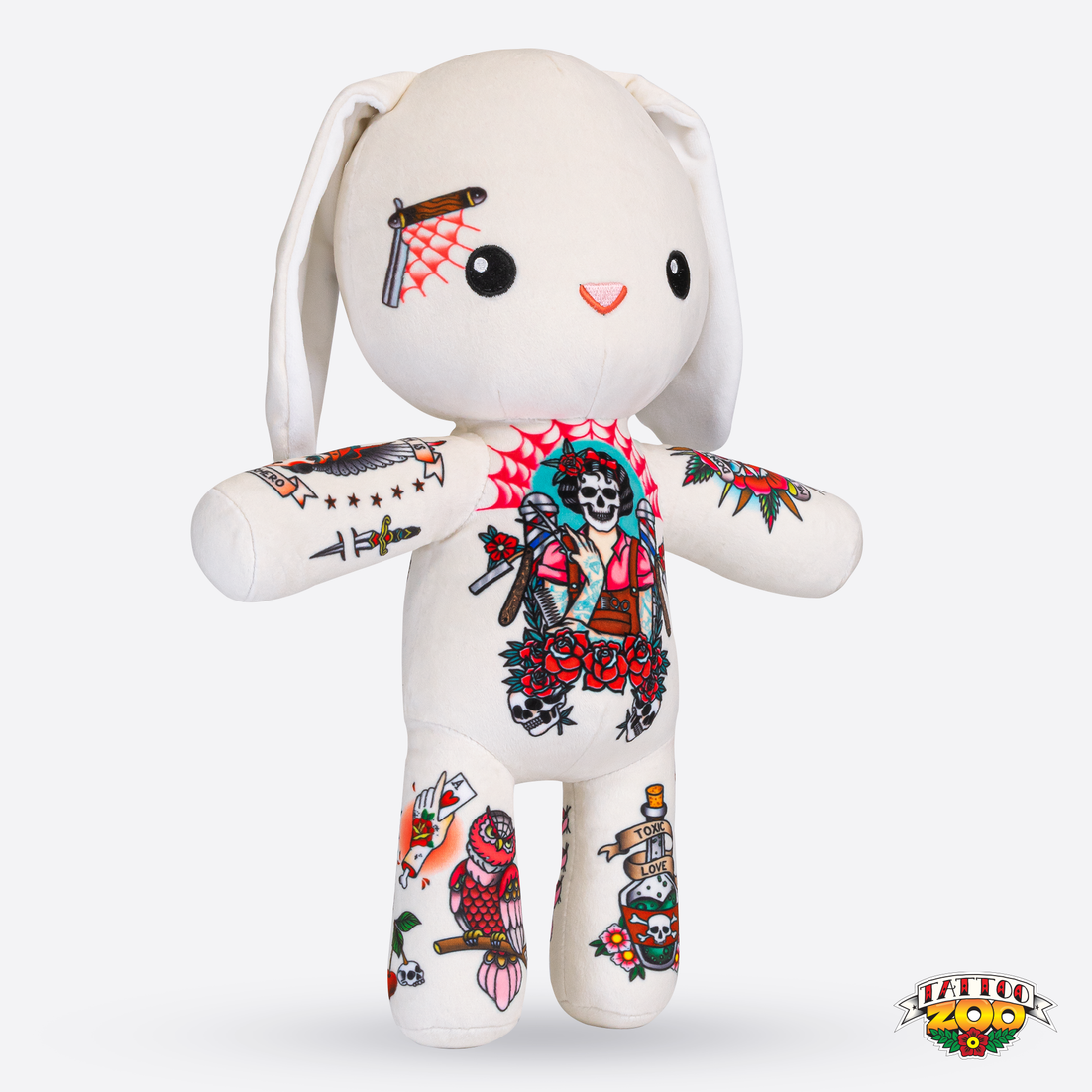 Barbara the Hairstylist Bunny
15 inch plushie
$39.95
Customer Reviews
Super cute
This time is super cute and soft. And the company has great customer service.
08/28/2022
Jason L.

United States
Super awesome!
Love my new Zoo plush! The tattoos are awesome! Can't wait for new ones!
07/07/2022
Amber R.

United States
04/03/2022
Ben M.

United States
Amazing!!!
She is amazing super soft amazing details.
03/13/2022
Avery B.

United States
Super Cute
"Super Cute!!" I can't wait for you to make a Tiger!
FREE SHIPPING!!!
It's so true, we treat our customers like kings.

MONEY-BACK GUARANTEE!!!
No questions asked satisfaction.
That's HOT!

Each character and animal are designed collaboratively with the tattoo industry. The artwork is designed and inked by tattoo artists from around the world.
Super-fast shipping. Most orders will ship within 24 hours of ordering. These animals want to be adopted and we waste no time in getting them to you!
100% money-back guarantee–no questions asked. High quality stuff going on here and great customer service. All products are inspected and pass quality certifications.
You can't measure love, but if you could, a lot of that sh*t went into these–from our collaborative tattoo artists to the zoo staff and the inked animals themselves.